Overview
GreenFig is an exciting e-learning startup with one mission—to help individuals gain the digital skills and real-world experience they need to thrive in careers they love. By partnering with universities to deliver practical, industry-focused courses in high-growth career areas such as digital marketing, business analytics, sales operations, and sales development, the company gives workers the skills and credentials to compete in the booming "codeless" or tech-enabled jobs market.
Nine months after our first engagement, GreenFig reached out a second time to get our perspective on a brand new set of challenges. This time, the growing company needed help streamlining its many moving processes.
To meet demand for its courses and satisfy various marketing and sales needs, GreenFig had tried to adopt a number of different software solutions:
HubSpot

Customer relationship management (CRM)
Lead capture
Learner database

Stripe
Canvas

Open-source LMS integrated with a sharable content object reference model (SCORM)
While these solutions had worked well enough in GreenFig's early days, a lack of integration between the platforms was developing into a major hassle as the company tried to scale up. With demand increasing, the manual process of matching payments from Stripe to HubSpot records—a flat database—was failing. The company would need to streamline its operations if it wanted to continue growing.
Once again, we listened deeply to the client to more fully understand the problems at play in this system—and help GreenFig discover the solutions that would be best for their particular needs. Taking a consultative approach, we worked with GreenFig to upgrade and refine its operations, making them easier to use and more efficient for everyone involved.
Recognizing that HubSpot simply wasn't up to the task of managing GreenFig's software ecosystem, we developed a new "brain" for the company's operations—a custom-built piece of software we dubbed the Central Learner Administration System (CLAS).
CLAS integrated all relevant incoming data from HubSpot, Stripe, and Canvas, allowing the systems to "talk" to each other automatically and offering the GreenFig team a single, reliable source of truth about their marketing and sales efforts. Thanks to GreenFig's hard work and open mindedness, our teams have slowly but surely built up an intuitive, highly scalable set of processes that will serve the company well for years to come.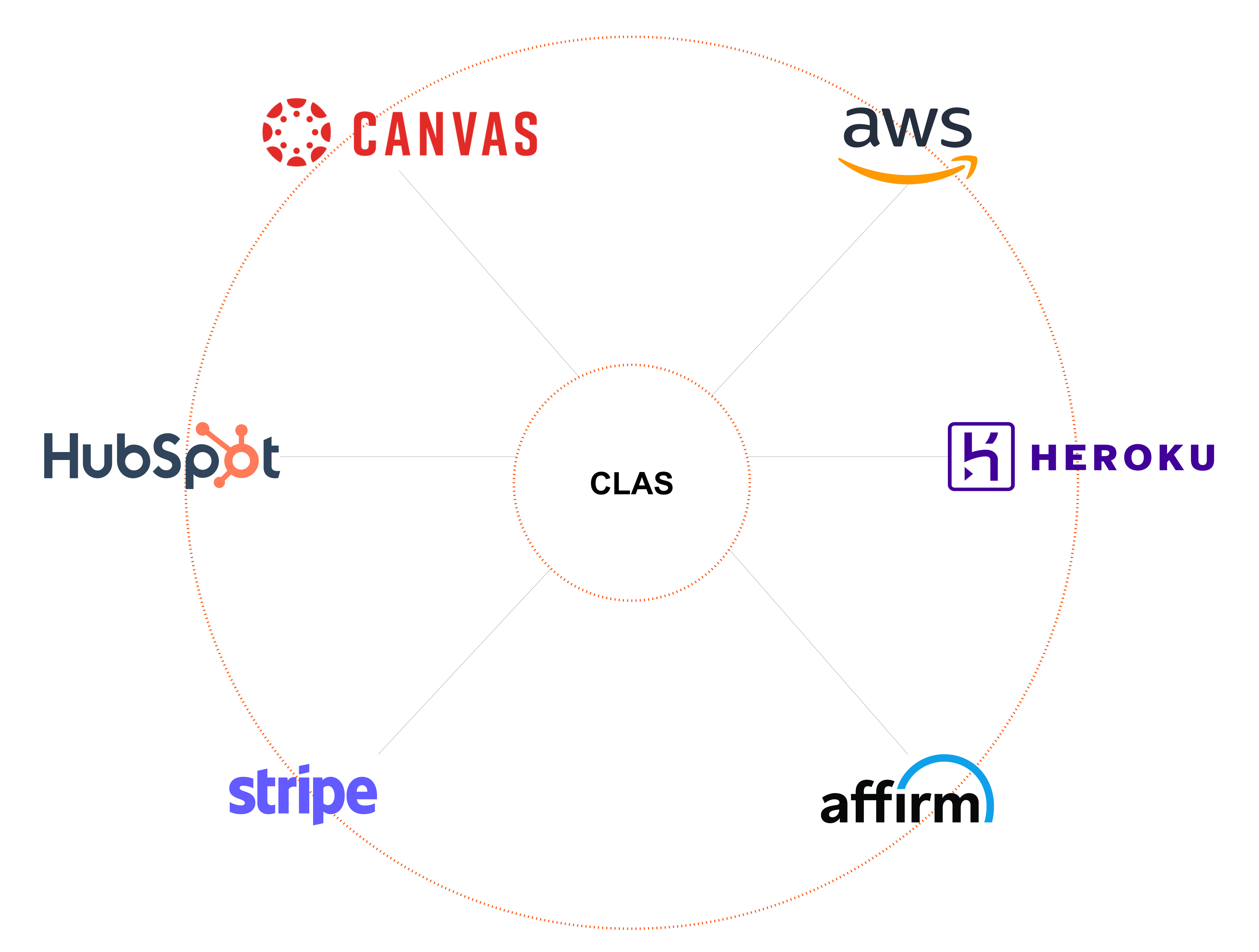 We continue to work with GreenFig to build additional workflows off of CLAS, including:
Refunds
Transfers
Invoicing
Decoupled infrastructure
We began our work with GreenFig with the goal of helping the company scale. Today, we can proudly say that we have transformed this promising startup, transitioning them from a basic startup infrastructure to a far more scalable tech stack—and a foundation for future success.